LEADERSHIP DEVELOPMENT
Leaders rely on experience, knowledge and deliberate execution to keep their companies moving forward. Our team inspires new ideas, strategies and perspectives, focusing on the most relevant solutions whereby business leaders can execute these business practices swiftly and successfully.
Performance improvement is a systematic process used to address critical areas that can identify gaps, plan related improvements, implement systems and evaluate the tangible and intangible results.
Our world-class platform offers:
Dynamic presentations on the topics that matter most to business leaders.
Specific strategies and resources for immediate application.
Customized presentations tailored to the needs of each member group.
Small-group workshops where interaction is highly encouraged.
Follow-up sessions that monitor results and recommend "next-steps."
The Quadrillion provides our clients with resources that help them gain unique perspectives and discover a renewed sense of direction — both personally and professionally.
SALES TRAINING
Understanding consumer behavior is paramount in the sales process but LISTENING for hot buttons and overcoming objections is essential to closing the sale. Unfortunately most sales people would rather talk than listen. The Quadrillion offers a broad range of powerful programs, entry level sales representatives to the most seasoned professionals, each program is uniquely designed to take each individual to a higher level. Most sales people often compete on price rather than on value. Creating the unique value proposition, listening for closing signals and following up after every interaction greatly increases the likelihood of going from an amateur to a superstar sales executive.
COACHING AND MENTORING
Coaching and mentoring pays huge dividends! The Quadrillion offers practical techniques to coach employees on how to become more productive, positive, inspired and effective. Real-world advice combined with proven solutions enhances the coaching conversation that turns an average transaction into a transformational experience. In today's era of downsizing, right-sizing, buyouts and mergers combined with the speed of business, managers are in search of strategies to become more effective. Our programs specifically address:
• Creating a climate of open communication
• Four core competencies for high performance coaches
• Breaking barriers to create a culture for coaching
• Strategies for dealing with the know-it-alls, energy vampires and passive aggressive sabatogers
• A model for coaching: skills, performance, professional development & executive agenda
RESEARCH
Evidence-based decision making is a powerful tool for leaders to incorporate into their strategic planning and business optimization. The Quadrillion uses empirical evidence (real-world data) and sound analysis to guide our clients in projects that identify strengths, weaknesses, opportunities, and threats impacting their business processes.
WORKFORCE DEVELOPMENT
The demands on the rapidly changing workforce continue to increase, and the need for improved employee productivity and effectiveness has become more intense. However, as organizations are faced with increasing pressures to achieve more with less, they continue to struggle with keeping pace in measuring and preparing their workforce to meet growth plans. A recent survey of more than 250 human resource professionals from around world finds that an unprecedented 94 percent do not feel their personnel are adequately prepared to meet their companies' future goals. The Quadrillion creates development plans for every level of the organization through:
Skill Gap Assessment
Training
Human Capital Development
Our clients report that our leadership development initiatives help them grow, learn, and find new ways to apply their innovative found knowledge to their businesses.
PERFORMANCE ASSESSMENT
A growing number of businesses and education leaders recognize the importance of various assessments that are used to evaluate learning on the part of the employee or student. In the age of innovation – in which the workplace will require "new ways to get work done, solve problems or create new knowledge" – the assessment of employees and students will need to be largely performance based so that employees and students can demonstrate how well they are able to apply content knowledge to critical thinking, problem solving and analytical tasks throughout their career. Performance-based assessment requires the individual to use high-level thinking to perform, create or produce measurable results that drive the business enterprise. The Quadrillion performs benchmarking studies, job task analysis and scoring rubrics that are designed to meet the performance outcomes within disciplines. Clients have reported dramatic improvements within individual business units and collectively as a whole enterprise.
CORPORATE BRANDING
Effective corporate branding defines a business's personality. The identity dictates types of employees, the look and feel of products, product packaging and physical characteristics of the location in which the product or service is distributed. Companies can be energizing, compassionate, reliable, innovative and even predictable but at its core lies the people that represent the product or delivers the service in a manner in which there is an emotional attachment. Strong emotional connections lead to higher customer loyalty, increased profits and long term value enhancement for both the customer as well as the employee. The Quadrillion has spent years researching top performing companies and identifying critical factors that lead to increased employee engagement which in turn drives business performance.
STRATEGIC MARKETING
Expanding into new geographic markets or consumer segments is challenging, especially if competition is already high. The Quadrillion helps pave the way and develop a targeted approach for a company to increase its market share through expanding its product footprint. An established, known brand requires less marketing effort to sell the company, products and services to a new market. A strong brand coupled with a strategic marketing campaign can elevate a company's profile, increase market share and retain the desired customer base that creates a pipeline of business for long term growth.
CUSTOMER RETENTION
Developing a culture that generates customer loyalty in which the customer buys, multiplies and continues to stay connected is the goal of every forward thinking entrepreneurial enterprise. The consequences of customer retention also compound over time and sometimes in unexpected ways. Listening to customer feedback and responding proactively can open new channels of business activities and result in long term success. The Quadrillion analyzes the customer profile, develops a formula for creating customer-centric processes for retaining profitable customers. Customers are the lifeblood of a business and to create ways to strengthen the overall experience results in higher satisfaction and ultimately higher returns.
TALENT DEVELOPMENT
Regardless of the type of business you are in, having the right people in the right roles is crucial for long term success. Talent management ensures that you have a steady and prepared pipeline of talent. Companies often mistake talent management for a human resource function rather than an ongoing critical strategic initiative. Realizing that a successful talent management program is not defined as a "one-size-fits all" approach but is designed out of careful scrutiny of a company's culture (a corporate DNA) and matching these needs to a process for recruiting, selecting, training, engaging and retaining high potential talent.  The Quadrillion helps organizations customize a program that links talent management to desired business outcomes.
EMPLOYEE ENGAGEMENT
Engaged employees aren't the same as satisfied employees and alternatively not all satisfied employees are engaged. Only 20% of the workforce is truly engaged. Engagement is defined as actions on the part of the employee that are discretionary and whereby the employee is loyal and remains with the organization over the long haul. Engagement is difficult to pinpoint in isolation but when combined with hundreds of deliberate actions creates performance which results in higher customer satisfaction, reduced absenteeism, fewer accidents, increasing productivity which ultimately creates a more profitable enterprise. The most obvious connection between employee engagement and the way a business operates is its customer service. The Quadrillion measures employee engagement and helps companies develop systems and processes that increase engagement. Many of these improvements are immediate, cost effective, measurable and meaningful. Clients that benchmark employee engagement and use the tools and resources recommended by The Quadrillion have reported significant improvements in business performance.
REAL ESTATE CONSULTING
Providing research, analysis and advisory services to real estate developers, owners, managers, investors and lenders has been a core service of The Quadrillion for over 23 years. Our signature strength lies in identifying critical issues that impact the financial health of a property or a portfolio. With a deep understanding of the interplay between the physical characteristics of an asset, the financial aspects and the human capital, The Quadrillion helps our clients achieve successful outcomes and enhance the value of their business. We understand market dynamics and recommend strategies for positioning the asset to meet the goals and objectives of the owner. Identifying critical issues that affect the individual asset or portfolio throughout the lifecycle can have a huge impact on the financial performance and alter the decision criteria used in acquisitions, dispositions, or repositioning of the asset. The Quadrillion can support your efforts with deep knowledge, insights and a proven track record.
ASSET ANALYSIS
Understanding the goals and objectives of the client allows The Quadrillion to use a systematic approach to evaluating the performance of an asset and make recommendations for desired outcomes. Often times market conditions dictate short term actions that aren't always sustainable. The Quadrillion offers resources that a company can rely on to operate, thrive and expand in the most turbulent market conditions. Maximizing the efficiencies and identifying the highest and best use of the asset is a signature strength of the The Quadrillion.
DUE DILIGENCE
Identifying those critical issues necessary when making an informed decision is paramount in any transaction and even more important when it comes to real estate. A thorough examination of strengths, weaknesses, opportunities and threats can often mean the difference in success and failure. The Quadrillion offers expertise, experience and an approachable means to identifying and evaluating potential issues affecting the decision to go forward or pass on the opportunity. With over 30 years of experience in at least three market cycles, The Quadrillion has worked with diverse property types both nationally and internationally.
DREAM BUSTERS VS. DREAM BUILDERS
Seventy-six percent of the things we say to ourselves are negative. More than 60% of workers are aware of abusive conduct in the workplace or having worked in a toxic environment. These statistics underscore the need for positivity. Negativity stymies productivity and as a result, people are less motivated to do their best work. This workshop unpacks the following topics and makes the case for increasing employee engagement. We always move in the direction of our talk!
Strategies for creating a climate of candor and collaboration
Techniques for minimizing turf guarding
Twelve drivers of employee engagement
Tools for identifying strengths and maximizing employee productivity
Crucial conversations that increase self-efficacy
CLAY ON THE WHEEL
Developing Top Tier Talent
The war for talent is fierce and the talent pool has never been as shallow. This seminar takes a deep dive into identifying, sourcing and developing high potential talent. Employers that are able to select talent using a strengths-based approach report increased tenure and employee engagement. Career pathing and job task analysis are two methods for identifying "job fit" which is a critical driver of employee engagement. Hallmarks of this program include:
A five-pillar approach to sourcing talent
Simulated strategies for identifying high potential talent
KSA (Knowledge, Skills & Abilities) methodology for identifying job fit
Career pathing – a critical ingredient for retaining talent
HIGHEST AND BEST USE!
Building Successful Teams to Maximize Profits
Just as you evaluate real estate, you should consider how you assemble teams to increase productivity and maximize the value of individual talents. Homogeneous teams are at risk of delivering mediocrity due to a similarity in thought. Conversely, a team that is diverse in thought can create a rich and more powerful result. Have you considered a strategy for creating high performing teams? This workshop offers a robust recipe for making the most of individual contributions that increase creativity and collaboration that drives profits to the bottom line.
Clarification of goals and roles
Assessing individual strengths and matching talents to the job
Using OKRs (Objective and Key Results) to guide decision making
Create a talent score-card to identify next level leaders
A SHOT OF VITAMIN E - ENGAGEMENT
Every Organization can use an infusion!
Is your organization suffering from "culture shock," complacency or overall malaise? Chances are this condition is due to employees feeling overcommitted, undervalued and often times ignored! A satisfied employee likes their work, an engaged employee loves their company. A primary distinction of an engaged employee is the discretionary effort demonstrated to move the "needle" forward in performance and profits. Learning outcomes for this workshop include:
Recognizing the symptoms of dis-engagement
Identification of performance metrics
A prescription for increasing engagement
Reward and recognition strategies that increase loyalty
THE "C-SUITE"
Character, Capacity, Conversations and Consistency
Cornerstones of success can easily be defined by these critical elements. What is talked about in meetings, demonstrated by every employee within the organization and reflected in policies and procedures creates the DNA or culture of a company. The only way to scale a "best in class" culture is to define these non-negotiable traits in a way that explains the "why, the what and the how" in a way that creates a "stage" for people to perform at their highest level. This workshop explores:
Identifying competencies that define a leader
Measuring what matters…increasing capacity within each team member
Effective communication strategies that increase clarity and confidence
Coaching techniques that focus on "feed-forward" vs. "feed-back"
THE BREAKFAST OF CHAMPIONS
What are you eating? What's eating you?
We have all heard that breakfast is the most important meal of the day. I want to encourage you about how you select your mental food. What you feed your mind is just as important as what you feed your body. Do you treat yourself like a world class athlete? This workshop serves as a catalyst for reaching new heights in personal mastery. Creating a positive mental mindset is the first step in changing your circumstances. Learning outcomes include:
A "mental meal plan"
Techniques for creating balance
Strategies that strengthen your mental muscle
Triggers that derail your emotional intelligence
Successful shifts for personal success
TOUGH, TOUGHER, TOUGHEST
Business isn't hard… what's hard is relationships in business! The challenging part about managing relationships is tackling the tough conversations. Even the toughest conversations can be altered by your choice of words, body language, and mental framing. Regain your personal confidence and prepare for your next conversation. Learning outcomes for this workshop include:
Break down barriers before they break you
Constructive conflict resolution
Coaching yourself and others using preciseness of speech
Negotiating tips for success
Strategies for overcoming sidestepping, turf guarding and a scarcity mindset
YOU ARE THE C.E.O. OF Y.O.U.
Stop waiting for others to help you. Take the reins and lead yourself! Dr. Debbie Phillips will offer strategies for building your personal brand along with proven methods for effective communication. As an entrepreneur, author, speaker, and career coach, Dr. Debbie will leave you energized and ready to accomplish your personal and professional goals. Each one of us is given 86,400 seconds each day to accomplish our goals; one second is too important to waste or be distracted by negative influences. In this action-packed session, Dr. Debbie will answer your questions and offer ways to explore new opportunities to live your best life through positive productive actions!
Overcome mental traps that hold you back
Developing preciseness of speech and precision of your plan
Keystone habits for formulating success strategies
Presentation techniques that elevate your confidence
EMOTIONAL INTELLIGENCE
A leader's emotions are contagious. Is yours worth catching? If a leader demonstrates energy and enthusiasm, an organization thrives, if a leader spreads negativity and dissonance, it flounders. Join us for an action-packed workshop that discusses proven techniques that increase emotional intelligence and impact work/life balance in a very positive manner. Coaching and mentoring strategies will equip you with new ways to energize your teams, communicate more effectively and lead with intention.
BECOMING A COACHING MANAGER
This seminar gives attendees a variety of coaching tools, techniques, and best practices to improve their effectiveness.
Topics Include:
Analyzing Performance
Creating a Climate for Effective Coaching
Giving Corrective Feedback and Handling Difficult Situations
The Coaching Mind-Set
Coaching: Self-Assessment
Using the "Mineral Rights" Model
Providing Balance and Helpful Feedback
The Coaching Manager as Observer
IT'S ALL ABOUT "TIME"
TIME – Teamwork, Information, Motivation & Energy
In order to optimize your company's performance as well as your own career as an executive, you must be a visionary, a trailblazer, a strategist, a communicator, a coach, a diplomat, and a politician. The world's most successful leaders are able to focus on the "big picture" and uphold high standards while wearing many hats. This seminar blends various strategies together that are necessary for driving organizational success.
Topics Include:
Building Effective Teams
Sharing Information for Organizational Success
Motivation through Effective Management
Traits of Top Performers
ROI and ROE (Return on Energy)
COMMUNICATING FOR CLARITY
Effective communication is fundamental to every successful relationship. This program gives clear and concise recommendations for improving both oral and written communications. This course covers the proper use of phone, email, handwritten letters and other formal means of communicating. The attendees leave with effective strategies that include a communications checklist.
Topics Include:
Communication Audit
Listening…Your First Step toward Success
Conversation – The Ping Pong Game
Delivering Effective Presentations
PRESENTATION IS EVERYTHING
Understanding the importance of business etiquette and professional dress can often position one for career advancement. Business today is often conducted over a meal or in social environments and this course takes attendees through the fundamentals of dining, wardrobe enhancement, networking, and general business protocol.
Topics Include:
Office Courtesies that Increase Your Clout
Using Technology Graciously & Effectively
Presentation Protocol
Wardrobe Planning
Dining Etiquette
How to Meet, Greet and Make a Favorable Impression
Establishing a Professional Presence
LEADERSHIP
"What is your core four?" This course is about identifying your top leadership qualities that work in your culture. Learn to use your strengths to create momentum and measure what matters!
Topics Include:
Leadership Styles Among Generations
Strategies for developing leaders
Transactional vs. Transformational leadership
Closing the leadership gap
TEAM PERFORMANCE
Rowing in the same direction…flying in formation… If you think your team is moving in different directions, this program is for you. Understand communication styles and organizational dynamics that promote effective productivity and profits.
WINNING ATTITUDES
Becoming A Person Of Influence
Every employee is either an asset or a liability! Investing in top performers can make a huge impact on the organization. Those people generally influence others to a higher degree. This seminar outlines the daily dozen attributes of a person with influence.
Topics Include:
Building Effective Teams
Sharing Information for Organizational Success
Motivation through Effective Management
Six Secrets to Effective Negotiation
Maximizing Income & Shareholder Value
THE "BUSINESS OF BUSINESS"
Maximizing the value of the asset through an intense focus on revenue.
Topics Include:
Reducing revenue loss through strategic marketing
Increasing ancillary income through processes and partnerships
Focusing on collections through improved screening
Renewing residents by creating raving fans
SUCCESSFUL SELLING BEGINS WITH YOU!
This action-packed seminar focuses on the mental mindset needed in sales. Most of the things we tell ourselves may be working against us. This seminar focuses on the 10 secrets of successful salespeople and guides attendees through the fundamental practices of selling, closing, and follow-up.
"CLOSING" THE CIRCLE
Selling is process! In this seminar, you'll learn the five critical steps in the sales process in addition to building a pipeline of leads through effective relationship building. Build long-term relationships, not short-term sales!
AFTO - "ASK FOR THE ORDER"
In the world of text speak and instant messaging, the one most important piece of sales advice is to ask for the order! Successful salespeople often talk too much and fail to recognize vital buying signals. This workshop is an absolute refresher for even the most experienced "relationship sales builder."
EXECUTING EXCELLENCE
In sales, there are 2% of professionals who are extraordinary relationship builders! They develop friendships first and then share their product or service with the public. They aren't pushy, aggressive or overly demanding. They are steady, consistent, professional and passionate about everything they do and the products they represent. This workshop shares traits of successful people and then drills down to the discriminating difference that makes them unique, effective and excellent in every way!
GENIUS ZONE
We all have our strengths. Unique talents and gifts that each of us bring to the workplace typically go underutilized. Job fit is one of the strongest predictors of success in one's career. Matching skills to the job can be the single most important factor in talent management. This course offers:
• Techniques for identifying strengths.
• Strategies for making the most of your gifts.
• Identifying complementary behaviors that fuel teams.
• Defining parameters that predict success for using your Genius Zone.
GOALS AND ROLES
This workshop focuses on understanding how achieving the owner's goals and objectives are dependent on the team's total engagement. We will explore the impact each individual has on product quality, customer service, marketing, and maintenance. In isolation, these components may seem insignificant, but when combined they can produce extraordinary outcomes. We will discuss these topics and the impact each has on the bottom line.
This workshop offers the following:
• Understanding Goals and Objectives of the Owner.
• Identifying key performance indicators that drive results.
• Strategies for managing diverse stakeholders.
• Resolving conflicts and achieving outcomes.
NETWORKING (NETWEAVING)
Networking is hardly a new concept for it has been around as long as people have been exchanging ideas and information on a variety of subjects including introducing one another to opportunities. Networking as defined by Webster is to "interact with other people, to exchange information and develop contacts, especially to further one's career."
This workshop explores various aspects to networking including how different generations approach networking, the process by which individuals develop, use and maintain their network as well as common truths and myths to measuring the return on investment in networking.
NEXT LEVEL LEADERSHIP
Ready to take your career to the next level or assist your team in growing beyond their current position? This workshop takes a deep dive into strategies that fuel individual and team goals. Topics include:
• Coaching
• Team Building
• Employee Engagement
• Talent Development
• Communication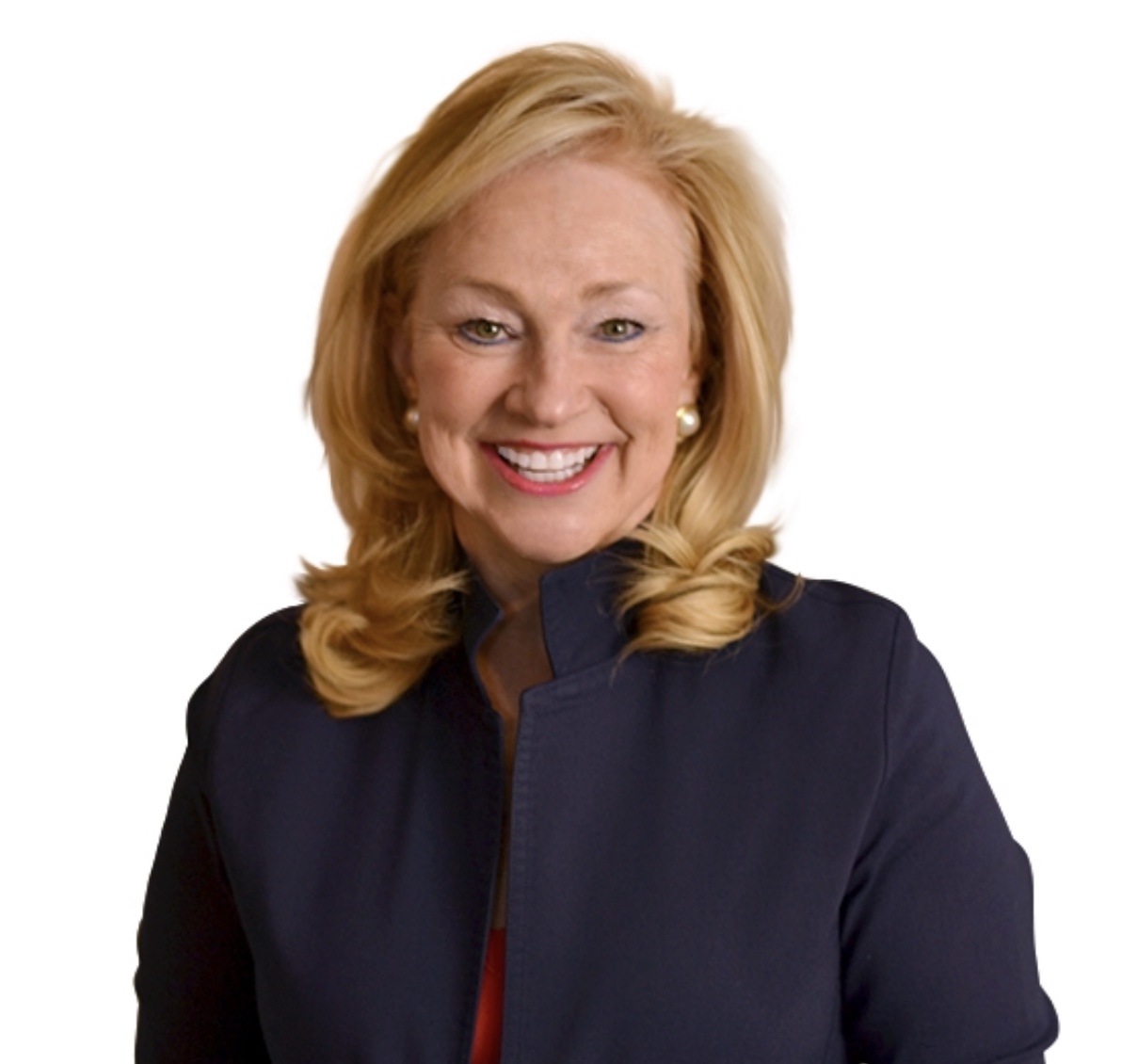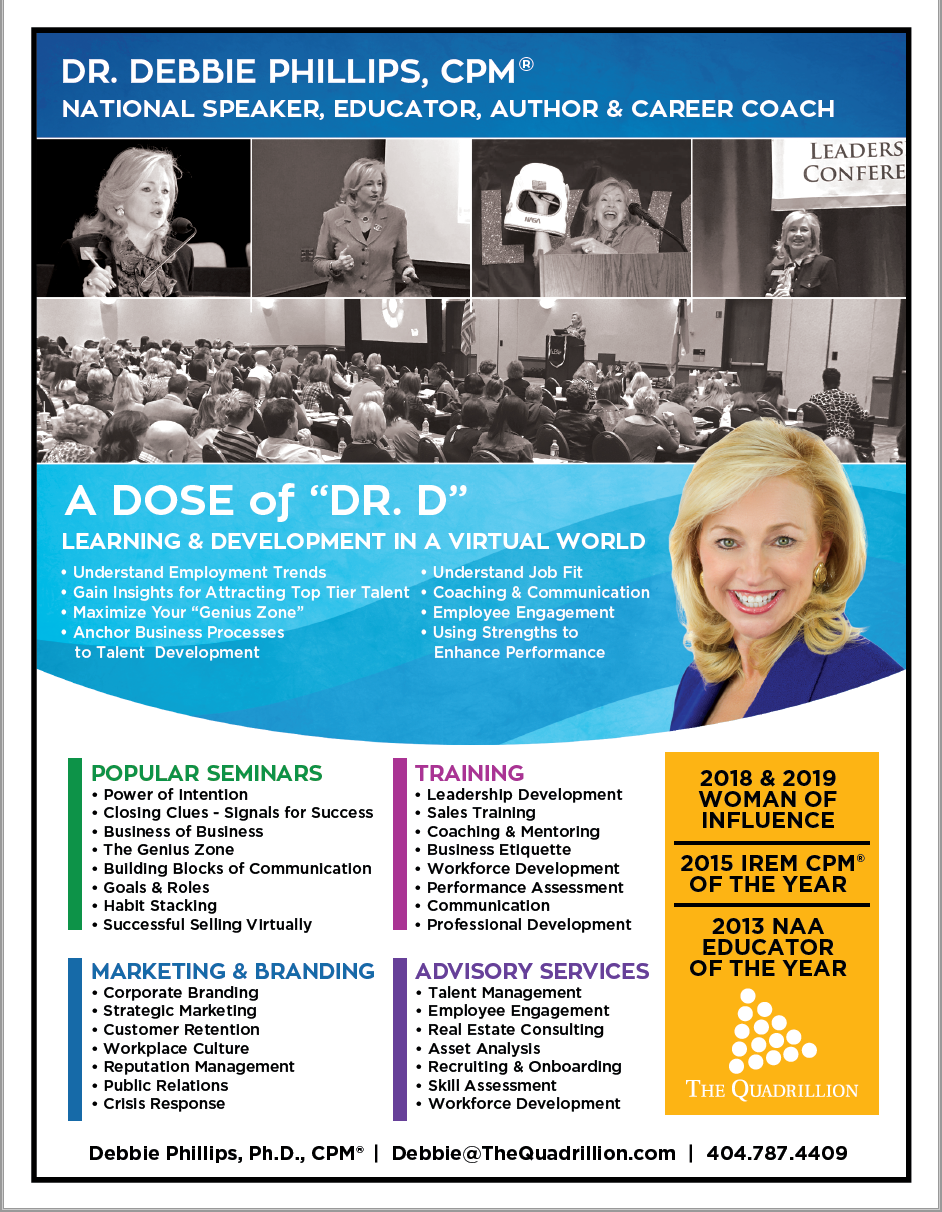 From management consulting to delivering learning and development programs, Dr. Debbie can ignite your teams with the knowledge, inspiration and energy to achieve new levels of performance.
Don't wait to move the success needle. Dr. Debbie is ready to engage.
See an overview of Dr. Debbie and our services in this quick one-pager!